June 16, 2009
Sukhumbasi, June 14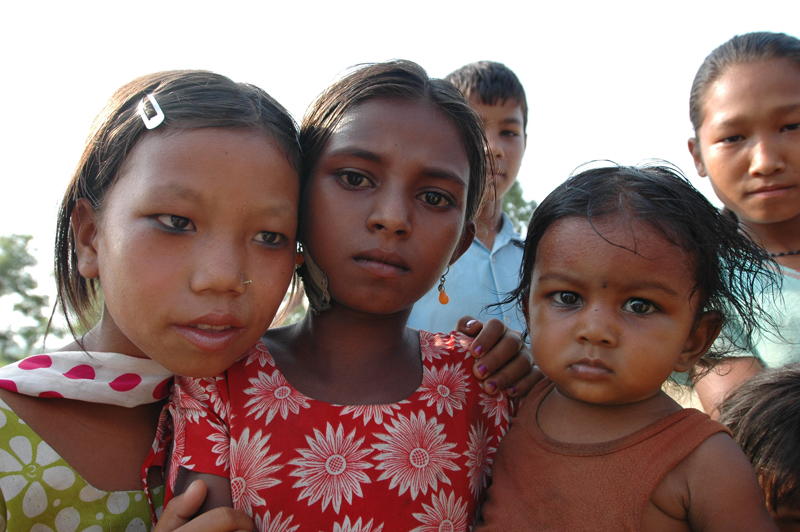 Above: children of Sukumbasi, Nepal. More photos @ flickr
Sunday is usually hectic, but what with the strikes late last week, this Sunday was even busier than usual: 400 patients seen in the outpatient clinic, instead of the 300 or so of an average Sunday. But I wasn't involved, much; they've figured out what to do with me, to make the most of my skills while I'm here, and that's going to involve teaching computer classes for hospital staff - very general introductions for those who have had little exposure or experience with computers, basic Microsoft Office skills for those with some background. Plus, it appears, a smattering of "we've had this problem, can you take a look at it?" type issues. And yes, laugh all you want, but most of the computers here are running Windows XP of some service pack or other, so this 23-year Macintosh veteran is going to have to bone up on his dark-side skills.
So I spent most of Sunday working on course outlines, as I hadn't arrived packing a complete syllabus, but I did manage to tag along as Dr. Grahame, his wife, son, daughter-in-law, the three Swiss students, Suman, and a driver made their way to the small town of Sukumbasi, a few km away from the hospital. The town is composed of about 40 families, has only been in place five or six years, and is sited on a former riverbed - recently-placed dikes redirect the water during the rainy season and make the area possible for habitation.
But "possible" does not necessarily mean "easy." While they're eking out a few small plots of crops on the land, the primary means of income for the town is river rocks, collected for use in construction elsewhere. And that means of support is important enough that as we approached the town in our Land Rover, the turnoff from the main road was blocked by three town residents, as it appears outside construction companies and other contractors have been coming to the area and driving off with river rock without paying the town residents for the use of their resources. The hospital "H" on the Land Rover and the fact that we were squeezed into the vehicle tightly enough that we weren't going to be leaving the area with more than a pebble or two in our pockets meant the gentlemen blocking the turnoff gave us permission to pass.
The income derived from river rock works out to about $0.50/day/person, and just in case that wasn't tough enough, a heavy thunderstorm on May 13 destroyed several houses. There's already some reconstruction and/or construction of new stronger houses with concrete supports, etc. under way, thanks to some particular donations from overseas. The donations go toward materials and any specialty skilled labor needed, and go through what is basically a town council; the general labor required is provided by the residents.
Also pictured is the new well, dug (by hand) in the last few months. 90 meters deep, it will eventually have a pump, but at the moment, to get water, you lower a bucket by rope and haul that bucket back up by hand. Or you talk the kids into grabbing the rope and running for 90 meters. And as much of a pain as either of those are, they're much easier than the long walk retrieving water previously required.
We also poked our head into the one-room schoolhouse, and just in case there was any doubt as to how much learning is going on there, Dr. Grahame's wife brought a new sari for an elderly blind (and leprous) woman living just outside the village. The newspaper wrapping the new sari was immediately grabbed and pored over by several of the children. And they didn't seem all that interested in the "New Miss Deutschland chosen" article, either.
The Swiss students finished their stay and left early this morning; I've had a flatmate for a couple of days in the form of Kat, a student from the UK who finished her university degree late last week (she'll be taking over the Swiss students' former digs later today). While her freshly-minted degree is in embryology (and yes, I've already tried talking her into teaching at a certain Norfolk institution), she's applied to graduate programs in public health, and is going to be working with the community outreach programs here.
Posted by Brenden at June 16, 2009 4:59 AM

home
| copyright © 2004-2012 Brenden Kootsey