June 3, 2009
June 4, 2009: Kathmandu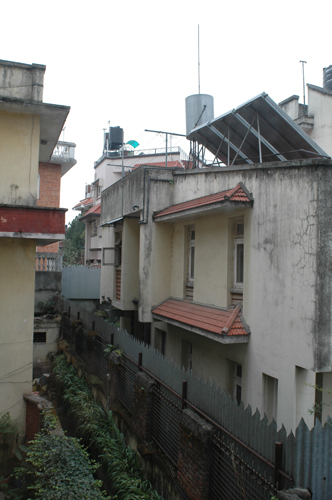 Kathmandu, at least this corner of it (Jawalakhel) is very quiet at night, particularly compared to my corner of Ghent with its roaring impressing-someone mufflers and backing-up beeping of the midnight Starbucks delivery truck. Doing exactly what you're not supposed to do to adapt to a new time zone and sitting down for a brief nap in the early evening, I got several hours of sleep, with the result that I'm up most of the night. Around 3:30 or 4 a.m. the first bird sounds begin, not all that distinguishable from Norfolk bird sounds to this nonbirder, gradually growing with an occasional dog bark until 6:30 or so, when the first human sounds start: growl of a truck or two, voices elsewhere in the hotel, the first taxi honks. Bursts of music: someone's alarm clock, or is that a ring tone?
I arrived in Kathmandu midday yesterday (June 3) on a flight from Singapore, with a planned overnight here before continuing on a domestic flight to Janakpur and ground transportation to Lalgadh. The same gentleman from NLT who picked me up at Tribhuvan Airport and delivered me to the hotel is supposed to pick me up today to return me to the airport, and when he left yesterday neither of us knew when that was supposed to happen. Yesterday's attempts to figure that out failed, and that's now the first task today.
In the interest of keeping things confusing, time-zone wise, Kathmandu is 9 hours and 45 minutes ahead of the East coast of the U.S., and 12 hours 45 minutes ahead of the West coast. So at noon in Norfolk (and 9 a.m. in California), it's 9:45 p.m. in Kathmandu. Why the fractional hour, I'm not sure...
Posted by Brenden at June 3, 2009 10:25 PM

home
| copyright © 2004-2012 Brenden Kootsey